---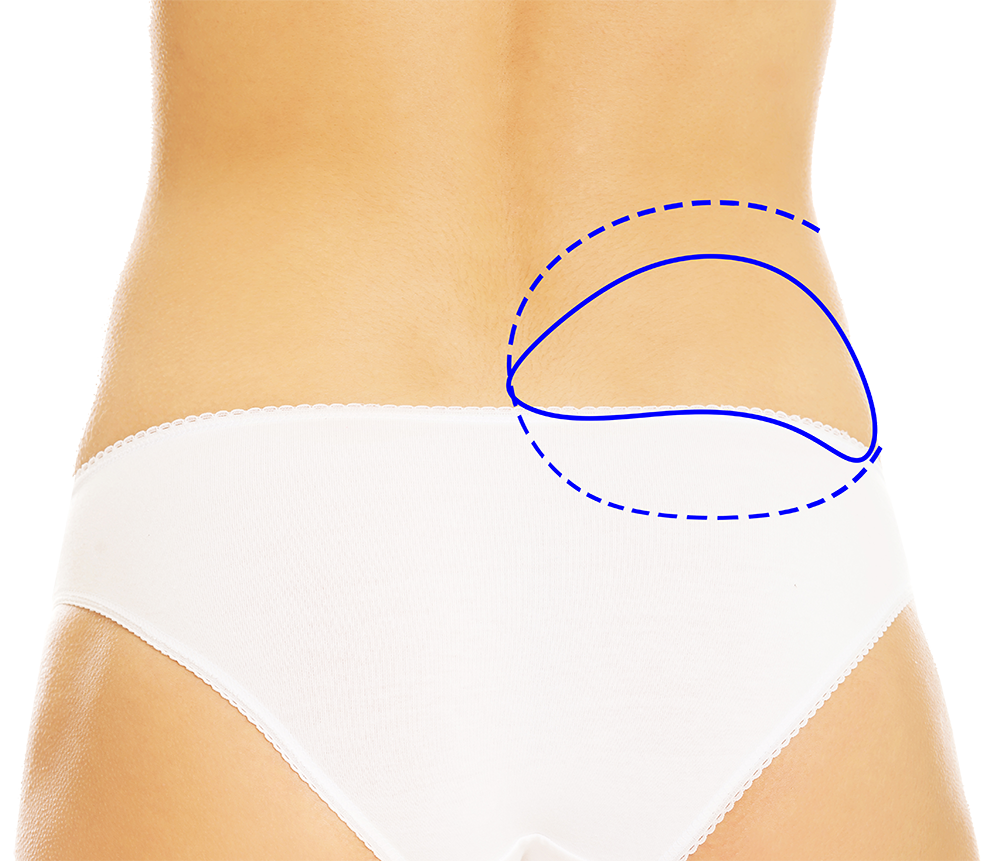 The Lumbar Artery Perforator flap (LAP flap) replaces the skin and soft tissue removed at mastectomy with tissue that is borrowed from the lower back. The incision will be over the lower back. With a LAP flap the skin, soft tissue, and very small blood vessels required to produce the breast reconstruction are removed from the lower back. In contract to the common flaps the blood vessels with the LAP flap are very short. Therefore, this also requires the use of additional blood vessels from the abdomen. A small incision will also be made in the lower abdomen to obtain these blood vessels. The blood vessels from the abdomen are connected to the blood vessels with the tissue from the back. This composite tissue is then transferred to recreate the breast.
Like other flap options the LAP flap can provide a contour improvement to the area that the tissue is removed from. This specifically means an improvement in the flanks and lower back. In some patients there is also he allusion of a buttock lift.
LAP flaps are a new and innovative flap. Dr. Haddock and his team are one of the few groups performing this surgery in the world. Dr. Haddock has performed over 2,000 breast reconstructions with flaps. His approach is focused on a few key goals including superior aesthetic results, limited abdominal morbidity, and operative efficiency leading to quicker recovery. When choosing a surgeon to perform this operation experience is key. Additionally, the focus of the operation can vary among surgeons. Dr. Haddock does not simply view success as flap survival but his goal is to achieve the result his patients desire.
Dr. Haddock typically performs these operations at UT Southwestern Clemens University Hospital in Dallas, Texas. Here he uses an Enhanced Recovery After Surgery (ERAS) Protocol to provide for faster recovery and limit postoperative discomfort..
2 night stay in the hospital
Extra nursing care to watch the blood flow
6 weeks of restricted activities
Tightness in the trunk (usually improves over the first 3 to 4 weeks)
Patient Comments About a Breast Flaps with Dr. Haddock
"You know you have a fantastic plastic surgeon when your breast oncologist conducts exam and ask if you are staying current on mammograms and then goes "oh wait... You had breast reconstruction. Your plastic surgeon is amazing!" Well, I think so too. Thanks Dr. Haddock!"

"I can truly say that my experience has been wonderful. Dr. Haddock is a great plastic surgeon who takes pride in his work and makes you feel you are in good hands. He is always there to answer any question or concern. I truly recommend him for any type of plastic surgery because he loves what he does and he is good at it."

"I am a breast cancer survivor!! And I can truly say that when I look in the mirror I don't see a daily reminder that I once had cancer that took away the old models of my breast because Dr. Haddock gave me new models that make me feel so good about myself!!"

"I had a DIEP flap and am very pleased with the results. Dr. Haddock was very kind and wanted to make sure I was happy with the results. He discussed options with me that made me feel like I was part of the process. I now refer others to him. I highly recommend him, not only for his surgical skills but also for his caring nature."

"My experience was great with Dr. Haddock. His staff is so kind and his integrity and bedside manner is wonderful. Of course, the best part is the results."
As in all procedures, there are complications associated with autologous breast reconstruction. The potential adverse outcomes of autologous tissue breast reconstruction are total flap failure or partial flap failure. Total flap failure, the most feared complication, typically occurs due to a venous or arterial thrombosis of the vessels supplying the flap. With improved operative technique, in experienced hands this risk is extremely low. Patients may also experience hematomas, seromas and wound healing problems at the donor site or the recipient site.
---
Lumbar Artery Perforator Flap: Initial Experience with Simultaneous Bilateral Flaps for Breast Reconstruction

Dr. Haddock's team is one of the only teams in the world offering simultaneous bilateral breast reconstruction with LAP Flaps.

Lumbar Artery Perforator Flap: Video Surgical Sequence

Dr. Haddock published his surgical technique for LAP flaps