Click to see the original article
You may not think of surgery as an artistic process, but UT Southwestern's breast reconstruction surgeons apply their background and interest in art to provide the best aesthetic results for their patients.
Dr. Nicholas Haddock, Assistant Professor in the Departments of Plastic Surgery and Orthopaedic Surgery, and Dr. Sumeet Teotia, Associate Professor of Plastic Surgery and Director of the Breast Reconstruction Program, operate together at William P. Clements Jr. University Hospital and work together to create and refine new breast reconstruction techniques.
Upon arriving at UT Southwestern four years ago, Dr. Haddock brought extensive experience with the profunda artery perforator (PAP) flap procedure, a breast reconstruction technique he helped pioneer and develop, which involves using a patient's own tissue from the back of the thigh to reconstruct breast tissue.
Dr. Haddock has been involved in fine arts for most of his life, and Dr. Teotia currently serves as Director of the Classical Drawing elective course at UT Southwestern while maintaining an art studio in Dallas. Meanwhile, Dr. Teotia was perfecting similar techniques using tissue from the abdomen. "I came on board and he was already doing these types of reconstruction on his own," Dr. Haddock said. "He came in with this beautiful flap and I thought that we could creatively use it and make it even better than described," Dr. Teotia added.
"He's more of a classic artist and I've been involved in plenty of art in my lifetime," said Dr. Haddock.
"We both solve creative problems at the end of the day," Dr. Teotia said. "We use the aesthetic angle to achieve a better outcome for each patient."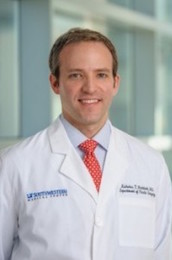 By combining their artistic eyes and extensive experience, the doctors use a co-surgery model that's difficult to replicate in most other institutions. While one doctor works with tissue in the upper body, another doctor works with tissue in the lower body. The technique allows constant motion in the operating room, and patients benefit from reduced recovery times and better results.
This unique co-surgery model has allowed the doctors to offer breast reconstruction patients more options, faster operative times, and better aesthetic results, and colleagues are taking notice. They've presented the model at multiple meetings and recently won the Bostwick Competition Best Paper Award for Breast Surgery for their creativity.
"None of the stuff we've done would have been possible if we weren't working together," Dr. Teotia said. "Our operating room staff is also very breast-dedicated," Dr. Haddock added. "We have a team of the same people we work with all the time. It's a pretty well-oiled machine."
Individuals who have undergone these procedures under the care of Dr. Haddock and Dr. Teotia are some of the best advocates of their approach to breast reconstruction surgery. In fact, many patients have created blogs and some have started their own nonprofits to raise awareness. "We're just honored to be a part of it," Dr. Teotia said.
October 19 is Breast Reconstruction Awareness Day
Each year, on the third Wednesday in October, The American Society of Plastic Surgeons (ASPS) and The Plastic Surgery Foundation (The PSF) lead the Breast Reconstruction Awareness USA Campaign, one of the few breast cancer campaigns dedicated to building awareness around breast reconstruction options.
According to ASPS, only 23 percent of women know the wide range of breast reconstruction options available, and even fewer are familiar with the possible outcomes. "Many people, even in America, don't get breast reconstruction or aren't presented with all of the available options," Dr. Haddock said.
The doctors are holding a local Breast Reconstruction Awareness Day event at the Samuel Lynne Galleries at 6:30 p.m. Oct. 19. The event includes a presentation on the various types of breast reconstruction available, and a panel discussion with past patients moderated by Dr. Teotia.
Learn more about the upcoming Breast Reconstruction Awareness Day event.
— Casey Conway