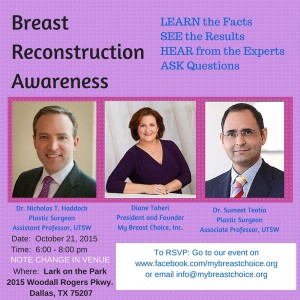 Join us for a fun and informative event hosted by Dr. Nicholas Haddock, Dr. Sumeet Teotia, and Diane Taheri.
Learn about all the options available when choosing the best surgery for breast cancer diagnosis. Meet one of the most advanced and innovative breast reconstruction teams in the US!
Meet other survivors who have experience a variety of surgical options. Understand the myths versus the realities of breast reconstruction.
Finally, there will be prizes for you to win!
Lark on the Park
12015 Woodall Rogers Pkwy
Dallas, TX 75207
Tickets available: http://mybreastchoice.org/